Trakiya motorway will be opened on Monday
information by focus-fen.net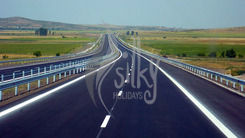 "Trakiya motorway will be opened on Monday and Bulgarians will have the chance to use it to go to the seaside," said engineer Lazar Lazarov, executive director of the Bulgarian Road Infrastructure Agency, in an interview with Nova TV.
Engineer Lazarov explained the lack of filling stations along the newly built lots of the motorway with the analysis on the return of the needed investments.
"The construction price is high, while traffic along Trakiya motorway is not too busy, especially in winter," Lazarov said but added that there would be information boards saying where the nearest filling stations were and there would be 22 places equipped with chemical toilets.