Bourgas boasts a 25% increase in the number of tourists compared to last year
VisitBulgaria.net, August 11, 2013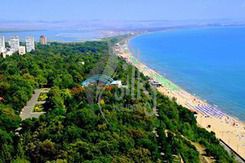 Bourgas boasts with various opportunities for relaxation and tourism like eco tourism, cycling tourism, cultural tourism, spa, seaside and recreational tourism. The resort has already registered a 25% increase in the number of tourists compared to last year.
The Sand Sculptures Festival seems to be touristsí favourite, as more than 33,000 people have already visited. The treasures of the Bourgas area are also quite popular. Every day around 200-250 people observe the exhibition in the Sea Casino Centre of Culture. They are all unorganized tourists. Bourgas municipality also launched a tour bus last week and people are already showing interest in it. The bird sanctuary at the Atanasovsko Lake is yet another popular site within the city limits. An expert biologist provides information to all visitors. Organized groups of ornithologists also choose Bourgas to observe the birdsí migration.
Huge interest was recorded in the Bourgas 2019 Summer Tour, part of its application for European Capital of the Culture 2019. The trip to the village of Gramatikovo, located near Malko Tarnovo, was particularly popular. 500 free tickets were provided to people who wanted to see the event.
The municipality bike rental initiative, caused a huge positive response in media and among people. This service is quickly becoming popular throughout the city. Meanwhile, the Bourgas salt-mines have emerged as the largest free outdoors spa centre. The municipality and the minesí management worked on improving the vicinity in order to provide better access to the site.