A science festival will be held in Bourgas this weekend
VisitBulgaria.net, September 26, 2013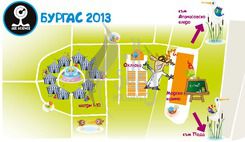 An open air laboratory, located next to Cultural Center "Sea Casino" will gather young scientists and experimenters on September 26th and 27th.
The first edition of the festival "Sea of Science" in Bourgas is part of the project "Science in Southeast Europe - SEE Science".
The event aims to engage young people with science and to recognize the importance of innovation at every level in the field of physics, chemistry and mathematics.
The creative projects will be evaluated by international jury in three age categories and the best research project will travel to Trento, Italy for its festival in the winter.
All materials and supplies for the realization of individual projects are provided by Burgas Municipality.