Russian construction giant builds an oceanarium in Bourgas
VisitBulgaria.net, September 30, 2013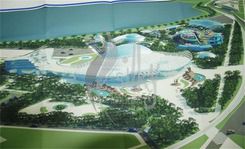 One of biggest Russian construction companies - NPO Mostovik, will build the Burgas Oceanarium as a showroom project to Europe.
The investors have chosen Bulgaria, as it is stable and has a political system and interpersonal connections. It also provides the most opportunities for investment and development, including being a reference to other countries in the EU or in the region.
The company will invest EUR 50 million euros in the Oceanarium. The project will be set on the 117 acres terrain and the construction works begin this October. A waterpark, a hotel and a commercial area are also included in the project.
According to the submitted offer the Russian company proposes to pay BGN 660 thousand when signing of the concession contract and then commits itself to submit 1% of the revenue from the project to the municipal budget.
According to the computer graphics, the facility will be huge and will look like a model of the ocean. The construction works are expected to start this fall, if the project is approved by the local authorities.
The futuristic building will be located in the northeastern part of the "Lake" park by the sea in Bourgas.